DIVE TIME The maximal dive time is limited to 60 minutes or arriving at 50 bar.

DEPTH We respect the depth limit for sport diving of 40 meters.

SAVE DIVING Please note, that we respect the standards of save diving. All our dives are guided dives. If you haven't been diving for a while we offer a Scuba Review free of charge in combination with one of our dive trips. When you check in we would like to see your diving certificate and your MEDICAL CERTIFICATE FOR SCUBA DIVING. 

EDUCATION To start education you must be at least 12 years old and you should have a MEDICAL CERTIFICATE FOR SCUBA DIVING.

LONGTAIL BOAT All half day and day trips to our local dive sites are operated by longtail boat. DIVERS and SNORKELERS will go on board at Kho Koh Khao Beach in front of our beach office.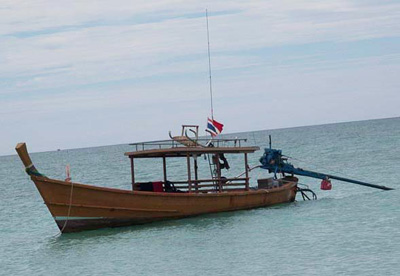 ACCOMMODATION You have many possibilities to find a room in Kho Koh Khao. We suggest you to stay in a hotel near by the beach office. If you have any problem to find a room please let us know. 

KHO KHAO ISLAND is famous for its tranquility, beautiful beaches and abundant nature. People are impressed by its natural beauty  and peaceful ambience. The villagers on the island wish to maintain the beauty of the island and therefore they plan a tourism development in harmony with the conservation of the environment. By visiting the island tourist will support the goal of the local communities to achieve sustainable development and contribute to the income of the local people.
LOCATION Koh Kho Khao Island lies off the coast of Takuapa  about 25 kilometers to the North of Khao Lak and about 100 kilometers to the North of Phuket and covers an area of 63 square kilometers. It's western coast is an endless beach lined by Casuraeina trees while the interior is covered by grassland. Infrastructure is well developed and you cross from the mainland a few hundred meters wide canal to Koh Kho Khao by car ferry or longtail boat ferry. KHO KHAO DIVING has two offices. One directly at the beach and one on the main road of Kho Koh Khao.